Careers in the Wine Industry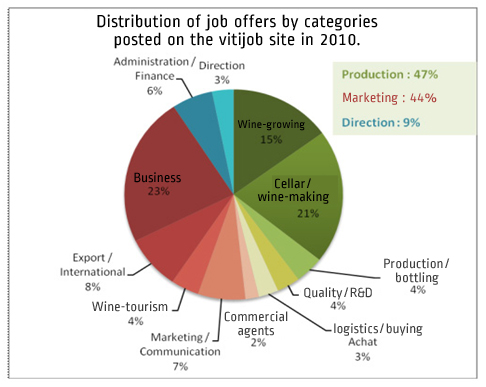 The wine trade employs more than two million people in France with more than 250000 people employed directly. This sector is therefore very important from an economic point of view; due to its size together with its dynamism, that can be measured by the increase in the number of job offers during recent years.
While the line of production trades is still dominant, sales and management professions have experienced a significant increase in offers over the past two or three years, especially in internationally oriented professions.
The ISV graduates can apply for a variety of positions thanks to the multi-disciplinary approach of their studies, which allows them to apply for various functions in the management, marketing, communication or commercial sectors. Here are a few examples:
Manager or Director
He/she looks after the company's general management: commercial and administrative; commercial strategy; marketing and communication; team and human resources management at the heart of a vineyard or with an independent producer or a cooperative producer.
As a field person, he/she will often be travelling in and out of France to promote wines. This person also has other corporate functions, for example within a family owned domain, or by creating his/her own company, in a sector where there are various opportunities: producer, wine e-business, commercial agency, consulting…
Technical-commercial Engineer
He/she assures the promotion and the sales to professional customers (negotiators, wine cellar, managers, retail distribution, chefs …) and also develops the B to B customers. He/she gives advice, technical support and participates in the development and promotion.
This job can be in various companies (negotiation, independent producers, cooperative producers…) and is rapidly evolving into purchasing manager positions.
Purchasing manager
He/she looks after the whole corporations supply chain, from sales to customer delivery. He/she looks after the reliability of suppliers and negotiates the best sales conditions to optimize the costs and follows the evolution of the market. It is a strategic job in the firm that contributes to highlight the company's quality policy.
Retail Manager
Under the director's authority, he/she looks after the commercial strategy of the firm, and also the commercial negotiation with the retail buying groups, but also with customers. He/she optimizes commercial prospection tools: fairs, and promotional actions and events. He/she also has to look after the dashboard for reporting. It is a job that has a quick evolution to sales management.
Global Account Manager
He/she has to look after the client's follow up in a commercial activity between businesses (or B to B). The term account in this context usually means a corporation client or a prospect that represents a real or potential turnover considered as really important (big companies, administration). It is a prestigious and strategic job.
Communication Manager
He/she guaranties the company's image and is the spokesperson. He/she looks after the communication and creates the communication plan. According to the company's situation, he/she will have under their responsibility internal communication, financial communication, press and public relations, crisis communication and institutional communication.
It is quite rare that in the wine business a full time communication job is available except in important trading companies or in well-known domains. Multi skill profiles are sought after : press relations, public relations, welcoming agents and organizing different events (professional and promotional fairs) complete the communication task. Moreover, the new information technology revolution: web, social network, e-business, and mobile/smart phone ask for technical profiles that are necessary for the corporation's commercial strategy.
Export manager
Export skills are highly demanded in small and large companies. The export manager has to look after the foreign commercialization in one or more countries.
He/she has to develop the sales by direct distribution or through an importation network. He/she will often have to deal with logistical and legal issues. Mastering languages, diplomacy skill, and an open mind are necessary to succeed in this job. Getting a VIE (International Internship Program) through Ubifrance often helps to start an international career.
Marketing Manager
The marketing manager builds up the marketing policy for the company and controls its realization. After studying the wine market, he/she defines the global offer policy of the company (prices and products) and takes care of the budget. He/she also looks after a management mission with operational teams who have to look after promotional gifts and communication supports.
It is a job with immense responsibility on account of the marketing issues, and the commercial success that is needed for a cooperative producer or a large company in the wine sector.
Sustainable development manager
The environmental question has become a real preoccupation of our society: legislation has evolved as well as cultural practices and mentalities, and even employers needs have grown. The Chamber of commerce and Industry, agriculture, unions, and many professional organizations are now looking for professional skills.
More and more people, professionals and clients are looking for biological agriculture. The areas of intervention are very wide and they need specific abilities such as technical or legal skills.
They also need to have real listening and negotiation techniques to federate interlocutors coming from complex and different environments.
Wine Tourism Manager
Wine tourism jobs are created to structure and intensify demands. In the vineyards, this job often comes with the commercial function to develop direct sales : sales animation in the cellar, and assuring a welcome for the wide variety of guests, these are some of the most important aspects of the position. Depending on the size of the company, it can be a full time or a part time job. Nonetheless, more and more specific wine tourism jobs have been created. They have to put into place different tourism and cultural projects that need important investments in terms of people and finance.
On the other hand, the institutional need is rising. In the south of France, local communities are increasingly investing in local development and are supporting two of the most important local economic activities: tourism and wine.
To answer that need, they are looking for economic developers who will, after a careful study of the project, define a strategy and will accompany politicians and financial actors to put in place wine tourism projects: creation of tourist wine routes – visiting vineyards, animation, tours …